기사보기
Notice (8): Undefined variable: newversion [CORE/lib.times/views/samples/newspaper.ctp, line 65] ');" class="s_news_a">단어학습
Notice (8): Undefined variable: newversion [CORE/lib.times/views/samples/newspaper.ctp, line 70] ');" class="s_news_a">속청학습
평가문제
Notice (8): Undefined variable: newversion [CORE/lib.times/views/samples/newspaper.ctp, line 76] ');" class="s_news_a">단문학습
Notice (8): Undefined variable: newversion [CORE/lib.times/views/samples/newspaper.ctp, line 81] ');" class="s_news_a">받아쓰기
Notice (8): Undefined variable: newversion [CORE/lib.times/views/samples/newspaper.ctp, line 86] ');" class="s_news_a">퍼즐스터디
ENIE학습
워드팁
해석
strained 껄끄러운, 불편한 / obstacle 장애(물) / bilateral 쌍방의, 양측의 / anticipate 기대하다 / emphasize 강조하다 / democratic 민주주의의 / concur 동의하다 / vital 필수적인 / fortify 강화하다 / potential 잠재적인 / benefit 이익 / spokesperson 대변인 / pledge 약속하다 / make headway 나아가다, 진전하다 / enduring 오래가는[지속되는] / restriction 제한 / complaint 고소 / confirm 확인하다 / administration 행정부 / contribute to ~에 기여하다
닫기
한국의 윤석열 대통령은 오랫동안 껄끄러운 양국의 외교 관계를 정상화하기 위한 노력으로 3월 16일부터 17일까지 일본 도쿄를 방문했다.
한국과 일본의 지도자들은 자국의 국가 안보와 경제를 포함한 다양한 분야에서 양국 관계를 재정립하기 위해 역사적 장애물을 헤쳐나갈 필요가 있었다.
큰 기대를 모았던 정상회담 첫날, 윤 대통령과 기시다 후미오 일본 총리는 양국간의 긴장을 극복하는 것의 중요성에 대해 이야기했다.
기시다 총리는 개회사에서 정상회담이 양국 지도자들 간의 정기적인 방문을 예고한다고 선언했다.
한편, 윤 대통령은 역사적으로 불안한 한일관계를 치유하고 싶다는 자신의 바람을 강조했다.
윤 대통령은 두 나라가 동일한 민주주의 가치를 공유하고 있기 때문에 협력해야 한다고 덧붙였다.
두 정상은 북한의 핵 위협에 대응하기 위해 양국이 관계를 강화하는 것이 필수적이라는 데 동의했다.
정상회담 둘째 날, 윤 대통령은 도쿄 게이오(Keio) 대학에서 170명 이상의 한국과 일본 학생들에게 연설했다.
그곳에서, 그는 양국의 젊은 세대가 신뢰와 우호를 구축함으로써 얻을 수 있는 잠재적 이익을 조명하고, 그들이 한국과 일본의 미래임을 강조했다.
이어 윤 대통령과 기시다 총리는 정상회담에 이어 두 코스의 만찬을 나누며 비공식 회담을 가졌다.
두 동맹국 사이에 신뢰를 쌓기 위해 노력했던 워싱턴은, 이 새로운 발전에 대해 공공연하게 기뻐했다.
존 커비(John Kirby) 백악관 국가안전보장회의(NSC) 대변인은 두 정상의 회담에 박수를 보내며 일본과 한국이 보다 오래 지속되는 관계로 나아갔기에 미국의 지지를 약속했다.
정상회담에 앞서, 한국의 이창양 산업통상자원부 장관은, 일본이 회담 후 한국에 대한 수출 제한을 해제할 것이며 한국은 세계무역기구에 대한 제소를 취하할 것이라고 발표했다.
정상회담이 끝난 뒤, 일본 교도통신은 일본 총리가 오는 5월 히로시마에서 열리는 주요 7개국(G7) 회의에 윤 대통령을 초청했다고 보도했다.
이도운 대통령실 대변인은 그 보도를 확인하고 윤석열 정부는 그 초청을 일본과의 정상회담의 "긍정적인 결과"로 보고 있다고 말했다.
한국 경제계는 이번 정상회담이 "불필요한 무역 장애물"을 제거함으로써 투자와 경제 협력을 증진하는 데 기여할 것이라며, 양국 관계 개선에 대한 지지를 표명했다.
닫기
[1125호] Korea-Japan Summit for a Brighter Future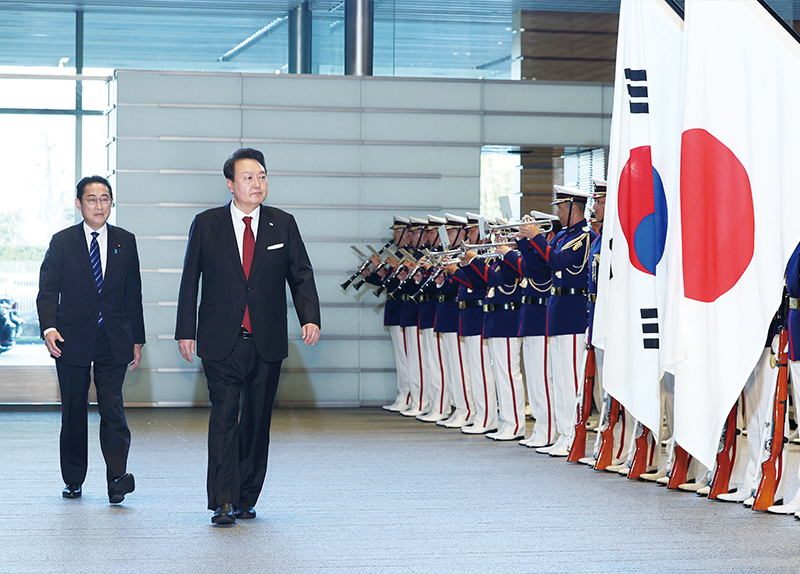 Yoon Suk-yeol, the president of South Korea, visited Tokyo, Japan, from Mar. 16 to 17 in an effort to normalize the two nations' long-strained diplomatic ties. The Korean and Japanese leaders needed to navigate historical obstacles to reestablish bilateral relations in various areas, including their countries' national security and economy.
On the opening day of the highly anticipated summit, President Yoon and Japanese Prime Minister Fumio Kishida spoke on the importance of overcoming the tensions between the two countries. Prime Minister Kishida declared in his opening remarks that the summit heralded regular visits between the countries' leaders. Meanwhile, President Yoon emphasized his desire to heal the historically uneasy ties between South Korea and Japan. Yoon further stated that the two countries must work together as they share the same democratic values. The two leaders concurred that it was vital for the two nations to fortify their relations to counter North Korea's nuclear threat.
On the second day of the summit, President Yoon spoke at Keio University in Tokyo to more than 170 South Korean and Japanese students. There, he highlighted the potential benefits of building trust and friendship between the two countries' young generations and stressed that they were the future of South Korea and Japan.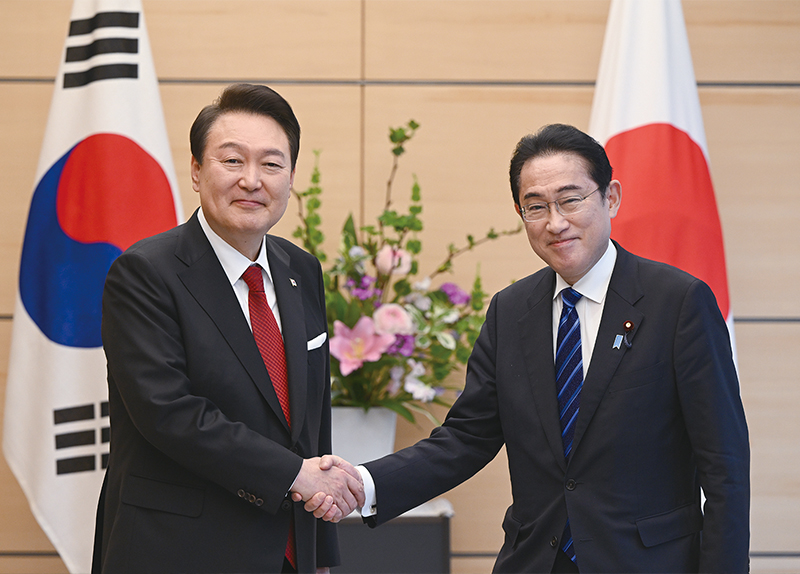 President Yoon and Prime Minister Kishida then engaged in informal talks over a two-course dinner following the summit.
Washington, which worked to build up trust between its two allies, was openly pleased with this new development. John Kirby, a spokesperson for the White House National Security Council, applauded the meeting between the two leaders and pledged the United States' support as Japan and South Korea made headway into a more enduring relationship.
Prior to the summit, South Korea's Minister of Trade, Industry and Energy, Lee Chang-yang, announced that Japan would lift its export restrictions on the nation following the talks and that South Korea would drop its complaints to the World Trade Organization. After the summit, Japan's Kyodo News reported that the Japanese Prime Minister invited President Yoon to a G-7 meeting, which will take place in Hiroshima in May. Presidential spokesperson Lee Do-woon confirmed the report and stated that the Yoon administration views the invitation as a "positive" result of the bilateral summit with Japan. The business communities in South Korea expressed their support for improving the bilateral relations, stating that by removing "unnecessary trade obstacles," this summit would contribute to increased investment and economic cooperation.


Sean Jung
Director