기사보기
Notice (8): Undefined variable: newversion [CORE/lib.times/views/samples/newspaper.ctp, line 65] ');" class="s_news_a">단어학습
Notice (8): Undefined variable: newversion [CORE/lib.times/views/samples/newspaper.ctp, line 70] ');" class="s_news_a">속청학습
평가문제
Notice (8): Undefined variable: newversion [CORE/lib.times/views/samples/newspaper.ctp, line 76] ');" class="s_news_a">단문학습
Notice (8): Undefined variable: newversion [CORE/lib.times/views/samples/newspaper.ctp, line 81] ');" class="s_news_a">받아쓰기
Notice (8): Undefined variable: newversion [CORE/lib.times/views/samples/newspaper.ctp, line 86] ');" class="s_news_a">퍼즐스터디
ENIE학습
워드팁
해석
crown prince (일부 국가에서) 황태자[왕세자] / collaborative 협력[협조]적인 / future-oriented 미래 지향적인 / strategic 전략적인 / establishment 수립, 확립 / oversee 감독하다 / diplomatic ties 외교관계, 국교 / memorandum of understanding 양해 각서(MOU) / renewable energy 재생 가능 에너지 (태양열·수력·풍력 에너지 등) / dependence 의존 / embrace 받아들이다[수용하다] / the Middle East 중동 / bolster 강화하다
닫기
무함마드 빈 살만(Mohammed bin Salman) 사우디아라비아 왕세자가 11월 16일 윤석열(Yoon Suk-yeol)대통령과 한국 재계 정상들과의 회담을 위해 한국에 도착했다.
이 회의를 통해 한국과 사우디아라비아 간에 약 300억 달러(40조 6000억원)의 협력적인 비즈니스 거래가 성사됐다.
무함마드 왕세자와 윤 대통령은 11월 17일 회담을 마친 후 양국이 "미래 지향적인 전략적 동반자 관계"를 위해 노력할 것이라고 발표했다.
두 지도자는 양국이 수행할 협력 프로젝트를 감독할 특별한 "전략 파트너십 위원회"를 설립하기로 약속했다.
이 정상회담은 서울의 한남동에 있는 대통령 관저에서 진행됐으며 양국간의 수교 60주년을 기념하기도 했다.
한국 기업들과 사우디아라비아는 사우디아라비아의 네옴(NEOM)시티 프로젝트 관련 업무 등 다양한 프로젝트를 위한 26건의 양해 각서를 체결했다고 발표했다.
계획된 스마트 시티는 사우디아라비아의 타북(Tabuk)주에 건설될 것이며, 전적으로 재생 가능한 에너지로 운영될 예정이다.
NEOM은 사우디아라비아 정부가 더 친환경적인 미래를 받아들이기 위해 석유 의존에서 벗어나려고 하는 한 가지 방법이다.
5천억 달러(677조 9천억원)가 규모로 추정되는 이 프로젝트는 2017년 무함마드 왕세자에 의해 처음 제안되었고, 2030년까지 100만 명의 거주자를 수용하는 것을 목표로 하고 있다.
게다가, 두 한국 기업들은 11억 5천만 달러 (1조 5천 5백억원)의 가치가 있는 그 프로젝트와 관련된 건설 계약에 서명했다.
에쓰오일((S-Oil), 현대로템(Hyundai Rotem) 등 다른 국내 기업들도 사우디아라비아와 양해 각서를 체결했다.
양해 각서가 법적 구속력은 없지만, 이 합의는 두 당사자가 서로 협력하는 데 관심이 있음을 의미한다.
무함마드 왕세자가 한국을 방문한 것은 2019년을 마지막으로 3년여 만이다.
윤 대통령은 왕세자와의 회담에서, "사우디 아라비아는 우리나라의 중동지역 최대 교역 파트너이자, 해외건설 파트너 국가로서, 우리 경제와 에너지 안보의 핵심 동반자"라고 말했다.
그는 국가의 석유 의존도를 줄이고, 경제를 재개발하는 것을 목표로 하는 왕세자의 "비전 2030(Vision 2030)" 프로젝트"의 출현은 "양국 관계를 새로운 수준으로 끌어올리기 위한 적절한 시기"를 의미한다고 덧붙였다.
무함마드 왕세자는 "이 과정에서 축적된 신뢰를 바탕으로, 사우디 비전 2030을 실현하기 위해 한국과 협력을 강화해 나가길 희망한다"라고 말했다.
닫기
[1109호] Saudi Arabian Crown Prince and President Yoon Announce Collaborative Future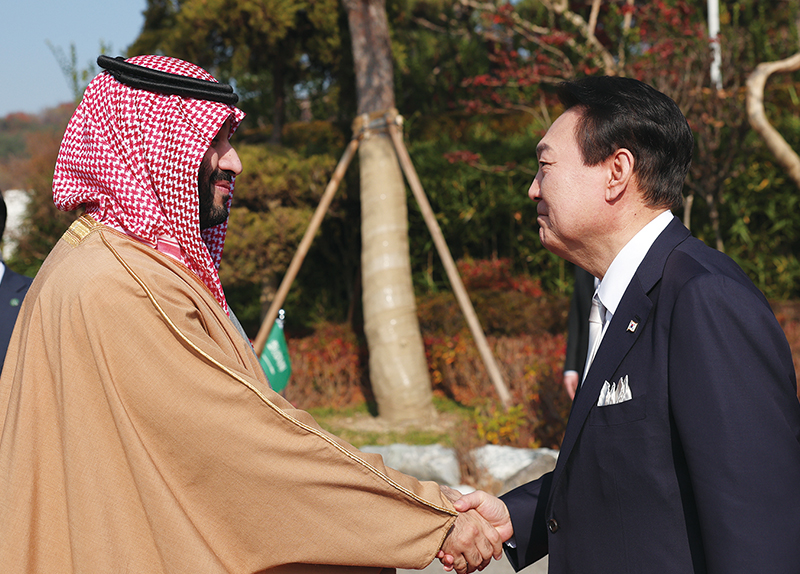 Saudi Arabian Crown Prince Mohammed bin Salman arrived in Korea on Nov. 16 to hold meetings with President Yoon Suk-yeol and Korea's business leaders. The meetings resulted in approximately $30 billion (W40.6 trillion) in collaborative business deals between Korea and Saudi Arabia. Prince Mohammed and President Yoon announced that the two countries would work towards a "future-oriented strategic partnership" after closing their meeting on Nov. 17. Both leaders committed to the establishment of a special "strategic partnership committee" that would oversee the collaborative projects that the two nations will undertake. The meeting was held at the presidential residence in the Hannam neighborhood of Seoul and also marked the 60th anniversary of the establishment of diplomatic ties between the two countries.
Korean companies and Saudi Arabia announced the signing of 26 memorandums of understanding for various projects, including work related to Saudi Arabia's NEOM city project. The planned smart city will be built in Tabuk Province, Saudi Arabia, and will operate entirely on renewable energy. NEOM is one way that the Saudi Arabian government is trying to move away from its dependence on oil to embrace a greener future. The project, which is estimated to cost $500 billion (W677.9 trillion), was first proposed by Prince Mohammed in 2017 and aims to house 1 million residents by 2030. Moreover, two Korean companies have signed construction deals in relation to the project, which are valued at $1.15 billion (W1.55 trillion).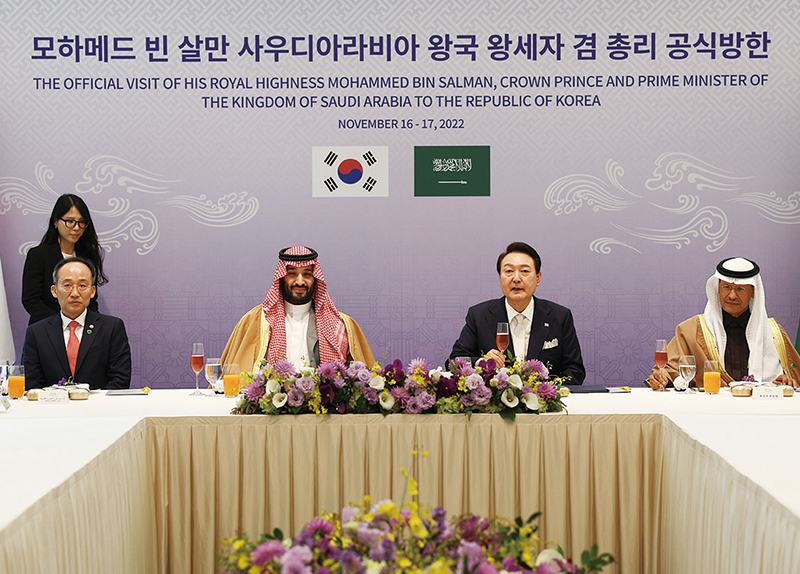 Other Korean companies, including S-Oil and Hyundai Rotem, also signed memorandums of understanding with Saudi Arabia. Although memorandums of understanding cannot be legally enforced, the agreements signal that the two parties are interested in working together with one another.
It is the first time that Prince Mohammed has visited Korea in over three years, with his last visit being in 2019. During the meeting with the crown prince, President Yoon said, "Saudi Arabia is Korea's largest trading partner in the Middle East and a partner in overseas construction, as well as a core partner in our economic and energy security." He added that the emergence of the prince's "Vision 2030" project, which aims to reduce the country's dependence on oil and redevelop its economy, signals the right time to "raise bilateral ties to a new level." Prince Mohammed said, "I hope to bolster our cooperation with Korea to realize the Saudi Vision 2030 based on the mutual trust built in this process."


Sterling Ah San
Copy Editor